About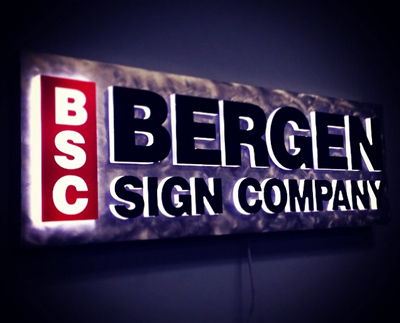 Bergen Sign Company has been a full service sign company since 1918. We take pride in our exceptional level of customer service, professionalism and quality, often going the extra mile to create the ideal sign system for our clients. Throughout the years, Bergen Sign Company has managed to adapt to an ever-changing economic and social environment. Today, we are able to fulfill all of our clients' signage needs, ranging from interior room ADA signs to corporate identification on a large exterior scale. At Bergen Sign Company, we know that quality customer service, product design and manufacturing will ensure a longlasting and successful professional relationship. We have over 90 years of quality experience to back our promises and products. We would love to have you become a part of the growing Bergen Sign family.
WHO WE ARE
1
BSC transfigures high quality prints and vinyl into signs that last for many years to come.
2
Our team's expertise incorporates skills in routing, welding, trim applying and much more!
3
BSC installs your sign on location in accordance to proper regulations to ensure customer satisfaction.
About US
quality customer service & production
Bergen Sign Company has been a full service sign company since 1918. At BSC, we know the concerns of our customers and work diligently to achieve those goals with on time delivery and efficient budgetary constraints. Our newest manufacturing facility in South Florida allows Bergen Sign Company to be more proficient for all of our customers anywhere in the United States.
NJ

973 742 7755



FL

954 957 9961